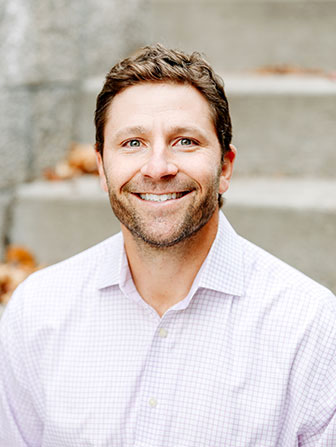 As a dentist, I know it can take a lot for someone to trust my team and me with their health and wellbeing. When a person makes that decision, it drives me to reciprocate with compassion, empathy, and expertise.
I feel that dentistry is about more than fixing teeth or making smiles more pleasing. It's about caring for the person who owns that smile and helping them lead the life they desire. Whether I'm providing a child's first dental exam, relieving a toothache, offering home dental hygiene instruction, or restoring function, my first thought is always, "What would I do if this person was part of my family?"
That question guides me throughout treatment planning and the procedure(s). I will never recommend an approach I do not feel is in the person's best interest, and always look to what will best serve the individual's long-term health.
Above all else, my main motivation each day is to provide the best experience for every patient. My biggest reward is helping people reach and maintain optimal oral health and, with that, a greater enjoyment of life.
Education and Experience
I attended Linfield College, graduating with a Bachelor of Arts in Biology. I next attended Oregon Health Sciences University, when I was awarded my Doctorate of Dental Medicine.
Following dental school, I worked in a dental practice in Portland for two years, before moving to Bend in 2004. I'm very grateful to practice my whole career in a town I love, and creating life-long relationships.
Continuing Education and Professional Affiliations
Like all areas of healthcare, dentistry is constantly advancing: ongoing research leads to new materials, changes in diagnostics and treatments, and innovative technologies. I stay current on the latest developments in order to provide patients with the best experiences and results.
I participate in the Spear Study Club, as well as CERECdoctors, and am a member of the:
American Dental Association
Oregon Dental Association
Central Oregon Dental Society
These organizations offer numerous continuing educational opportunities, through meetings, seminars, lectures, online courses/webinars, and professional journals.
I strive to make the most of each chance to learn, whether that's staying current on general dentistry topics, delving into the nuances of the latest cosmetic or restorative option, or reading about emerging research. This constant learning ensures I provide each patient with the ideal care for their unique situation.
Beyond Dentistry
Born in Northern California, I grew up in Roseburg, Oregon. It was there I met my future wife, Lindsey, in middle school.
Lindsey and I are beyond blessed to be raising three teenage boys: Brody, Ryder, and Bryce. If we're not chasing the boys around, we are usually with our lab, Kota, who is normally chasing the cat around!
With only a few more years of having these three boys under our roof, Lindsey and I try to spend most of our time with them – when they'll have us. For years that meant coaching their sports; now it means trying to keep up with them.
Our family has been fortunate to have developed great relationships with so many incredible people here in Central Oregon. We thoroughly enjoy balancing work and life by cultivating those friendships.
Otherwise, I can often be found outside, enjoying all the area has to offer: running, golfing, fishing, and hunting are all hobbies and passions.